I've been waiting for this day since I first saw the short story challenge on
Ashley's blog
. And I am so excited because it is finally here. Last week, Ashley posted 25 writing prompts. The one I chose is in bold below. As I started writing, I realized this was becoming much more than a short story, and I'm thinking of continuing to build on it. What's below is more of an introductory story to the much bigger picture. Anyways, go ahead and take a look see
. . . . . . . . . . . . . . . . . . . . . . . . . . . . . . . . . . . . . . . . . . . . . . . . . . . . . . . . . . . . . . . . . . . . . . . . . . . . . . . . . .
"Operation Prince Charming"
She knelt on the tile floor, carefully picking up the shards of glass. Why did it have to be this one that broke?
A small trinket from her childhood, it still somehow gripped her heart in sentimental bondage.
Annalise had watched her grandfather give that miniature glass rose to her grandmother. She had seen the love in their eyes, and at a tender age, she believed she had already seen what true love looked like.
Now, as she was unpacking her things in her third new apartment in two years, she was questioning if love like that would really ever find her. She had found love once, maybe not true love, but the kind of love that is contentedly comfortable. It was happy, and it was cozy, but it wasn't enough to keep her from leaving to pursue her goals. Not just that, she left to pursue her potential, to pursue her happiness, to pursue herself.
Now, five years later, she felt she was on a good path to finding what she was looking for. She had "that" job. As in, if I can just land "that job," my life will be complete.
For Annalise, that was a position with Global Bazaar Magazine as a travel correspondent. She had longed to travel throughout college, and thought if she could combine her love of the world,with her love of the written word, she would be perfectly happy. She had worked her way up, entering the magazine world as an intern, writing small side pieces here and there, and eventually earning her spot as a featured writer.
She had seen global events on the front line. She had been in the presence of world leaders. She was gaining more and more notoriety every day, and she was poised to become editor-in-chief down the line. She was lonely.
It was an acute realization that had dawned on her a little more each and every time she was forced to move. Travel wasn't hard. Coming home sometimes was. Moving from New York to Chicago, from Chicago to London, and now back from London to New York tore her apart.
She often wondered if her choices had been selfish, or whether she was being selfish now, having her dream career and still being unsatisfied with the universe. Was it enough to be completely successful in one area of her life, when she so frequently prayed for more.
As she placed the tiny rose, now in twenty pieces, up onto a shelf, she was convicted to make a change. To either be intentional about opening herself up, or intentional about being content with what she already had. Perhaps a decision to do both.
She set aside what was left to unpack and decided to call on an old friend. She needed to get out, and now was the time to do it. She was home.
An hour later she found herself on a bench in Central Park, an ice cream cone in her hand, her friend Laney next to her, the two of them catching up like they were still in high school.
Laney was now a New York City real estate agent, one of a fine breed who knew how to make the sale and make it genuinely. Unlike Annalise, she hadn't left after college. She had known Manhattan was her stomping ground. She was going to prove herself on her own turf.
The two of them together were quite a dynamic pair, both outwardly spunky and tough, both with a flair for the dramatic. Both were also kind-hearted and gentle, something they could recognize in one another, but rarely let the world see. They had learned that growing up in a privileged world.
"Laney, I've gotta admit," said Annalise. "I'm sick of the single scene. I want love. I want my fairytale."
Laney giggled, "Lise, you've always wanted a fairytale. Wasn't traveling the world your happy ending?"
"I suppose. And yes, I love to travel. But come on, you know what I mean. I think I've just been so afraid to look needy. I don't need people thinking I NEED anyone."
"Trust me, Lise, nobody thinks you need a man. We all know how independent you are."
"You say it like it's a bad thing," she laughed. "I am just a free spirit is all. Like a butterfly."
"So I need to find you a zoologist with a butterfly net?"
"Stop it, Laney. I'm Serious. Find me a guy"
"Ha, ok. You find me one first."
"Alright listen, this is actually not a bad idea. You know me better than anyone. You know I'm not going to sacrifice my job for a relationship. You've seen my relationship fails. What I'm doing clearly isn't working. You do it."
"Lise, are you serious right now?"
"So serious. And in return, I will find your real estate mogul ass a guy too. Because let's be honest, I know just a little bit too much about you too."
"Well, I suppose it couldn't completely hurt. But I really hate being set-up."
"Ugh, yea me too," Annalise groaned. "Well, dammit."
The two sat there, half excited by the possibility, half dreading the prospect of blind dates.
"Ok, I got it," said Laney.
"Should I be nervous?"
"No, just listen. I will do this for you and with you, but we're going to do it a little differently."
"Okkkkkk…"
"We will both sign up for one of those dating sites"
"No, Laney, that's not at all what I was thinking. Number one, there are creepy men on there. Number two, people may recognize my name from my magazine work. Number three, well just no."
"Lise, let me finish. We will both sign up for one of those sites. We won't use our full names. I'll go by Lain, you go by Lise. We're not lying. But… here's the kicker. I'm running your site, you're running mine."
"What? Ok, seriously, I should not have said anything. You know what, I'm good. I really don't need a man."
"No really, this could be great. Like you said, what you're doing isn't working. What I'm doing isn't either. So I'm running your dating profile, and you're running mine. I get to pick your dates for you. You pick mine. Maybe that way, we'll actually find some guys that work."
"Do we really have time for this?"
"Eh, time is time. We're 27. I kinda thought we'd be married by now. What have we really got to lose? We're in it together. If nothing else, we'll have some good stories to catch up on."
Feigning hesitancy, Annalise agreed. She was excited for this fun new experiment. She was prepared. She was slightly nervous. But she trusted Laney with everything and knowing that she now had a partner in this dating adventure made her feel all the more positive about it.
They parted ways after three hours of plotting and went home to get started on each others' profiles. The mission had begun. And to think it had all started with a tiny glass rose, and an inkling of missing love.
Operation Prince Charming was about to commence.
. . . . . . . . . . . . . . . . . . . . . . . . . . . . . . . . . . . . . . . . . . . . . . . . . . . . . . . . . . . . . . . . . . . . . . . . . . . . . . . . . .
I picture this as a compilation of hilarious first dates, and eventual true love...or not, we'll see. I'm so excited to read everyone else's stories.
Check out the original link-up below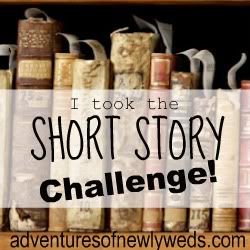 ­­­