Oh Friday, how I love thee. The perpetual promise of two whole days off. Forty-eight hours without the thought of work, and two slow mornings of breakfast cuddling with my hubby.
Our original plan for this weekend involved a lot of lawn work. I am convinced we currently have the ugliest lawn on our street, primarily because we haven't done anything with it since we moved in, and the leaves that have fallen from our giant oak trees have proceeded to ruin any chance we have of lovely green grass.
However, those plans are going to be put on hold. I've got a lovely girls day planned for tomorrow with these two gorgeous ladies...
My Nana and Mom
...followed by this little one's dance recital.
I am so excited!
Sunday is father's day, so I get to spend that with this handsome guy, cooking out on the grill.
My Handsome Daddy
So, even though the weekend isn't going to be quite as planned, it should be absolutely wonderful.
Today, I'm linking up with Ashley for Friday's Letters as well.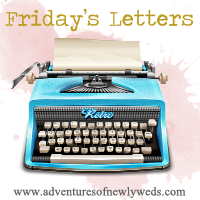 Dear Hubby, How did I get so lucky? You drove 40 minutes each way yesterday to have lunch with me because I was stressed at work. I love you so so so much, it's ridiculous. Dear House, You're pretty awesome, and I'm loving this makeover we're doing on you. You're going to be quite the stunner once we're done with you. But if you wouldn't mind, please please please stop hiding dust from me. I know your last owner clearly didn't dust you often, but I would like to, so finding these dust balls in little crevices that are so incredibly difficult to get to is no fun. Dear Florida Weather, It's cute that you like to change up your style every now and then. Rain, sun, who really knows with you? But maybe, just maybe, we can chat about the convenience of this with my schedule? That would be great.
Dear Friday
, Thank you for coming so quickly this week. I appreciate it. Let's make this the usual. Thanks!
Happy Weekend Everyone and Happy Father's Day!